Saint James is Spain's Patron Saint. Saint James Day's feast is celebrated on July 25 every year all over Spain, particularly in the region of Galicia.
But why was Saint James the Patron Saint of Spain, and how was he killed? When these questions struck my mind, I started to research them and read various website articles, books, and several verses from the Bible.
I was so surprised when I first moved to Spain so long ago and found that different cities in Spain have various patron saints. So stay with me till the end as I share what I have discovered about the Patron Saint of Spain.
Let's start!
What is Saint James the patron saint of?
Saint James is the patron saint of Spain and Galicia, where his remains are held. He is also considered the patron saint of pilgrims, laborers, and rheumatism.
A patron saint is a saint whose divine protection is dedicated to a particular person, a society, a church, or a place.
When someone is considered a patron saint of a particular community or place, there is always a reason behind it. It's usually because the person may have been born or died there or have a special connection with that place.
Why is Saint James the patron saint of Spain?
Saint James was born in 5 BC at Bethsaida, Galilee, Roman Empire. He was the son of Zebedee.
He has tremendous faith in God and felt God's calling to follow Jesus as his disciple. So then, Saint James became one of the twelve apostles of Jesus.
Saint James went to Spain to preach and spread the message of Jesus after Jesus died. Several sources say he started preaching in Galicia, a northern Spanish reason.
Later after his death, Saint James ' body was buried in Galicia. Saint James is the patron saint of Spain because he started his preaching in Galicia, Spain, and was buried there.
Is St James the same as Santiago?
Santiago is considered the equivalent of St James in Spanish. Its origin is a combination of two Spanish words, Santo (saint) and Yago (an old form of James in Spanish).
Saint James is also known as Saint James the Great, Saint James the Elder, and the Son of Zebedee. Santiago was his famous name in Spanish regions.
What is St James famous for?
Saint James is one of the twelve apostles. He was particularly famous for being the first apostle to shed blood for Christ. Besides, Saint James is the only apostle whose martyrdom is mentioned in the New Testament.
He is also famous for universally being the patron saint of pilgrims. That's because after establishing Christianity in Galicia, he returned to Judaea on pilgrimage, where he died.
Saint James' death brought an end to his preaching of Jesus Christ. But later, his body was brought to Galicia, and a church was built on his grave, which is known as the Santiago de Compostela Cathedral.
How did Saint James die?
In 40AD, Virgin Mary appeared to Saint James on the bank of the Ebro river. Legend says she was sitting on a pillar, which is still there today in Zaragoza.
Virgin Mary told him to go back to Jerusalem. During the trip back to Jerusalem, Virgin Mary appeared to all the apostles, including Saint James, to warn them about her impending death.
Upon reaching Jerusalem in 44AD, Saint James was captured prisoner by King Herod Agrippa I. Then, Saint James was killed by order of the King.
How was apostle James killed?
Apostle James was killed by beheading with a sword. He was taken to the same place where Jesus was crucified. Then he was tied to the rocks, blindfolded, and killed.
Here's a bible verse mentioning the death of Saint James:
"About that time, Herod the King laid violent hands on some who belonged to the church. He killed James the brother of John with the sword." – Acts (12:1-2)
Although Saint James was killed in Jerusalem, he was brought back to Galicia according to Spanish tradition, as I mentioned earlier.
Why was apostle James killed?
A Bible verse says:
"and when he saw that it (killing Saint James) pleased the Jews, he proceeded to arrest Peter also. This was during the days of Unleavened Bread." – Acts (12:3)
It explains that Jews' happiness was the motivation for King Herod Agrippa to kill Saint James and his companions.
Spain patron saints
Saint James feast day is mainly celebrated in Galicia, a regional holiday there. Other cities in Spain observe the day too, but it's not a local holiday.
That's mainly because different cities in Spain have different Patron saints. Those cities celebrate their own Patron Saints.
Let's have a brief look at the different patron saints of Spain:
Female patron saint of Spain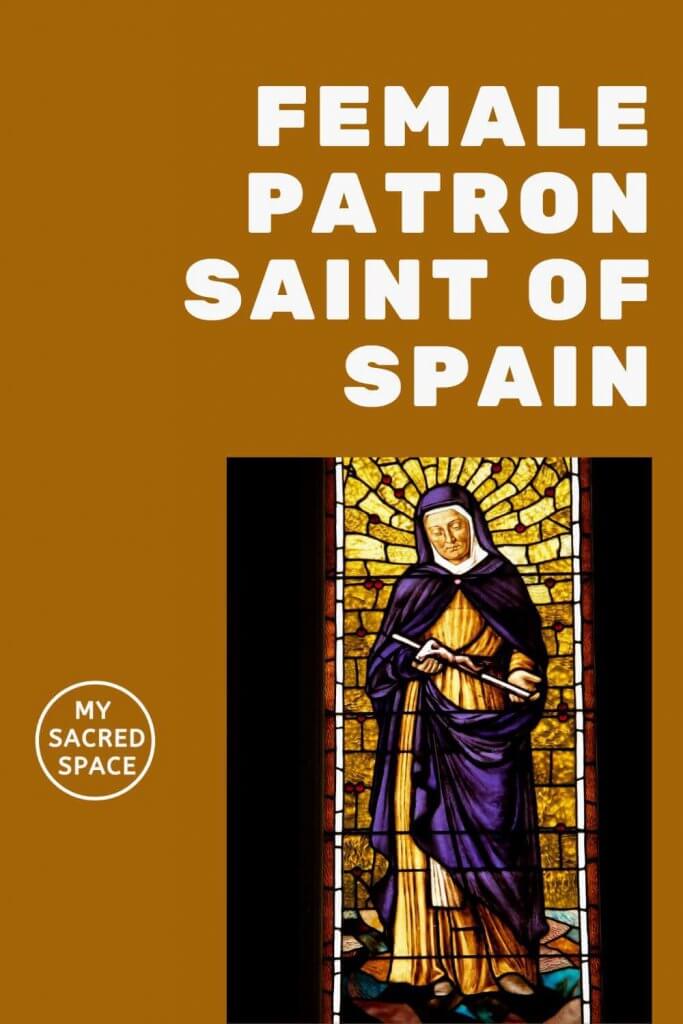 Virgin Mary's Immaculate Conception is the sole female patron saint of Spain. The country celebrates the feast of Immaculate Conception on December 8.
However, during the 1620s, people tried to make Saint Teresa of Avila the patron of all of Spain. After a long argument, the Immaculate Conception of the Virgin Mary remained Spain's only patroness.
Patron saint of Santiago Spain
Santiago de Compostela is located northwest of Spain and is the capital of Galicia. Thus, Saint James is the patron saint of Santiago, Spain.
There's a Shrine of Saint James in the Cathedral of Santiago de Compostela called the "Way of St. James." Thousands of pilgrims travel to the city annually from different points in Europe to show their respects to Saint James.
Patron saint of Spain Barcelona
The city of Barcelona, Spain, has two patron saints, including Santa Eulàlia and the Mare de Déu de la Mercè. Every year the city hosts a massive celebration for Saints day on September 24 that lasts several days.
Patron saint of Madrid Spain
Saint Isidore, also known as "Isidore, the Labourer," and "Isidore, the farmer," is the Patron Saint of Madrid, Spain. Madrid celebrates Saint Isidore's day feast on May 15.
He is also the patron saint of farmers and El Gobernador, Jalisco, La Ceiba, and Honduras. Saint Isidore was famous for his piety toward the poor and the animal.
Patron saint of Toledo Spain
Saint Ildefonsus, also known as San Ildefonso (in Spanish), is the Patron Saint of Toledo, Spain. The city celebrates his feast day on January 23, the day he died.
Saint Ildenfonsus became famous for writing a book defending the purity of the virgin. He is the patron saint of Toledo because he was born in this city.
Patron saint of Seville Spain
Saint Isidore of Seville is the patron saint of Seville, Spain. His feast day is on April 4.
Keep in mind that Saint Isidore of Seville is a different person and not Saint Isidore, who is the patron Saint of Madrid.
Patron saint of Cordoba Spain
Saint Asisclus and his sister Victoria are the patron saints of Cordoba, Spain. Their saint feast day is on November 17.
According to the Legends, Asisculus was beheaded, and Victoria was killed with arrows during the Diocletianic Persecution (the last and most severe persecution of Christians in the Roman Empire).
Patron saint of Granada Spain
Saint Caecilius is the Patron Saint of Granada, Spain. His feast day is on February 1.
He was the first Bishop of Elvira(Granada). Inhabitants of Granada take part in pilgrims in February to Sacromonte, where he died, to celebrate the feast of Patron Saint Caecilius.
Conclusion
Saints of Spain have been one of the most surprising concepts for me in my journey of Spanish immersion. Spanish people respect, adore, celebrate, cook, dance, and sing for their saints. 
Neighborhoods, villages, towns, cities, and all of the country have their saints. 
When I celebrate these saints in these incredible festivals of Spain, I feel that saints never die. They are just around celebrating with us. 
Below is a Pinterest friendly photo…. so, you can pin it to your Rituals or Ancient Wisdom Board!